Major donations made by the Toccolan Club have Been:
Asthma Foundation
Challenge
EJ Whitten Foundation and Alfred Hospital
Emerald Hill Mission
Here for Life
Juvenile Diabetes Foundation
Leukaemia Foundation
MS Society
Peter Mac (Lung Unit)
Robert Rose Foundation
Royal Children's Hospital
The Reach Foundation
$22,000
$16,740
$38,630
$20,000
$24,000
$32,622
$77,500
$12,500
$140,000
$25,200
$174,600
$17,575
---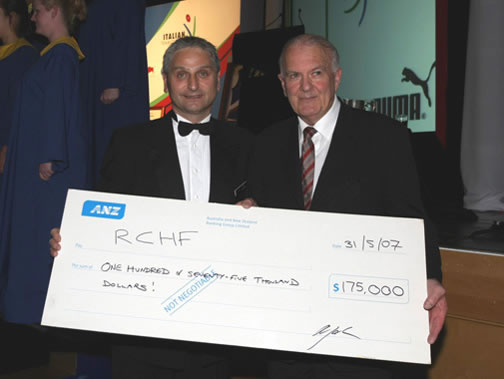 Don Smarrelli presents a cheque to Brian Mellon of the Royal Children's Hospital at the Italian Team of the Century function, 2007. The exact amount of the donation was $174,600.
---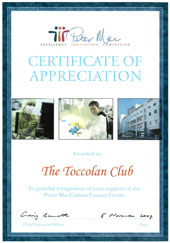 At the 2007 Toccolan Club Ball, The Toccolan Club donated $46,874 to the Peter Macallum Lung Unit, and through generous donations (or other proceeds) raised on the night the total amount donated was in excess of $140,000!